With the world hunkering down and housebound for the foreseeable future, staying connected is more important than ever. To bide the time until we can explore in person again, we wanted to recreate the discovery and energy of an IRL G Adventures tour for you with our new virtual walking tours.
Welcome to Florence, Italy!
Our first virtual tour features Florence with local chief experience officer (CEO), Stefano. We caught up with him to get to know his beautiful country a little bit better before embarking on our own armchair travels via the video below!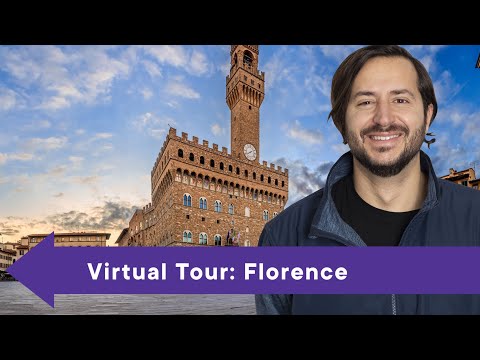 Name / hometown / where you lead tours?
Ciao! My name is Stefano, but you can call me Stef. My hometown is a small town called Frosinone, located one hour south of Rome. I lead tours all around Western Europe, but predominantly in beautiful Italy.
How long have you been a CEO?
Stefano: I have just celebrated my third anniversary with G Adventures.
What is the one must-try local dish/drink?
Stefano: A Tuscan sandwich or panino with pecorino from Pienza and prosciutto di Cinta Senese, washed down with a glass of Bolgheri red wine. This sandwich is made from unsalted Tuscan bread, flavoursome sheep cheese made in the dreamy renaissance hilltop town of Pienza, and prosciutto from a special breed of local cinta senese pig, which can be identified by the white "belt" across its shoulders. When these three things come together, magic happens! And no food magic is complete without a glass of excellent Tuscan wine such as Bolgheri from the Tuscan coastal area.
Tell us one "secret," not-to-be-missed spot on your tour, and why it is so special?
Stefano: San Miniato Abbey in Firenze (Florence). This is not just another 1,000 year old church. It has an incredible legend behind it, offers an incredible view of Florence, and stands next to the cemetery where Pinocchio's author is buried. Every night there is Gregorian chanting in the original medieval crypt. It gives me a "wow" moment every single time I walk in, and best of all, it's free!
After traveling with you, what three words would you want your travellers to use to describe Italy?
Stefano: Ancient, intense, hopelessly beautiful.
What books would you recommend to travellers who want to escape to Italy via literature?
Stefano: Bicycle Thieves by Luigi Bartolini — it is set in Rome after WWII and gave inspiration for one of the biggest classics of the Italian cinema which goes by the same name.
What is YOUR favorite place to travel to (not including your region!)?
Stefano: I love travelling in South East Asia. My favorite journey ever was my 30-day motorbike trip across Vietnam. It combined food, culture, adventure, changing landscapes, history — way more than I could have ever expected.
Thanks, Stefano!
The G Adventures' virtual walking tours series features a new destination each week, led by one of our expert CEOs. Using Google Maps and photos, CEOs will "walk" viewers around their location, sharing insider secrets, history and travel tips. Upcoming walks include Antigua in Guatemala, Buenos Aires, Cape Town and Hanoi, so stay tuned!
Remember: stay home, stay kind, stay connected.